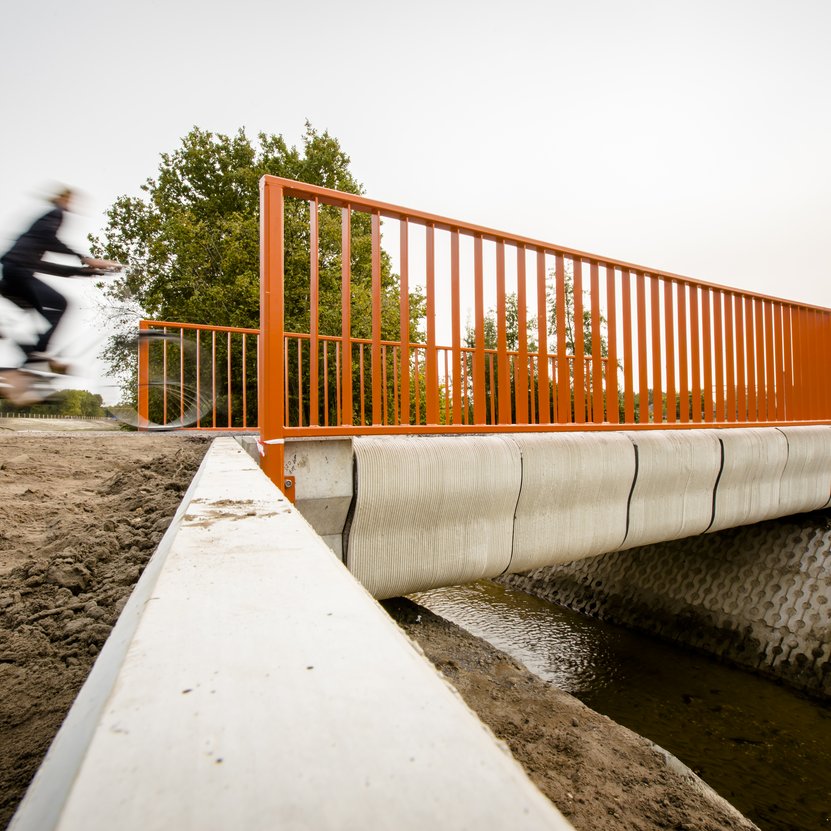 PDEng trainee 3D printed concrete bridges
3D Concrete Printing
Job description
The Department of the Built Environment of the Eindhoven University of Technology offers a PDEng position which leads to the degree of 'Professional Doctorate in Engineering' (PDEng) and is part of the Smart Buildings & Cities PDEng program (SEB&C)
The SEB&C program wants to contribute to the transition towards smart, intelligent and sustainable cities where quality of life is high. This transition requires new solutions which can only be created through multiscale and transdisciplinary (design) approaches. This requires technical designers who are able to work in a multidisciplinary environment and know how to communicate with different disciplines and stake holders. The PDEng program educates trainees to become those technical designers!
The two-year program consists of two main parts running in parallel:
Half of the program consists of post-master level education in the form of generic design projects and courses about design methods, entrepreneurship and professional skills.
The other half of the program is dedicated to an individual design project in collaboration with a company. It is your responsibility to manage and execute the project. Each trainee is supported by an advisor from the company and an advisor from the university.
The company (Rijkswaterstaat, RWS) assignment is related to the realization of a 3D printed concrete bridge, which is structurally optimized in terms of material usage. This project consists of two PDEng positions, which will work closely together towards the project goals:
the development of an optimization tool, to design a concrete bridge with minimized material use.
the development of a non-destructive measurement program with corresponding sensoring techniques, suitable for 3D printed concrete bridges.
performing benchmark tests on small scale 3D printed concrete girders, to validate the optimization model and calibrate the non-destructive measurements.
designing and manufacturing a 3D printed concrete bridge, which is structurally optimized, and subjected to the non-destructive measurement program.
Your position will be embedded in the research group 3D concrete printing within the department of the Built environment.
Job requirements
We are looking for an excellent and highly motivated candidate with:
a master's degree in Civil or Building Engineering, Building Science, Mechanical Engineering, Architectural Engineering, or equivalent.
interest in digital design methods (e.g. parametric modelling, topology optimization), digital manufacturing processes (e.g. 3D concrete printing, additive manufacturing) for applications in the built environment, or (large-scale) structural testing is needed.
an interest in developing new sustainability design strategies for the built environment.
an academic attitude in order to perform applied design research with an integral view on what is needed for the future built environment.
ability to work in a team and interested in collaborating with the industrial partners.
proficient in spoken and written English.

Conditions of employment
A meaningful job in a dynamic and international university with a close relationship to industry.
A full-time employment for two years.
to support you during your PDEng and to prepare you for the rest of your career, you will have free access to a personal development program for PDEng trainees.
A gross monthly salary of €1970,- and benefits in accordance with the Collective Labor Agreement for Dutch Universities.
Additionally, an annual holiday allowance of 8% of the yearly salary, plus a year-end allowance of 8.3% of the annual salary.
41 holidays per year (excluding bank holidays, for a full-time employment of 40 hrs/week
A broad package of fringe benefits, including an excellent technical infrastructure, moving expenses, and savings schemes.
Family-friendly initiatives are in place including excellent on-campus children day care and sports facilities.
Assistance for finding accommodation is offered.

Information and application
More information
Do you recognize yourself in this profile and would you like to know more about the project? Please contact dr.ir. R.J.M. (Rob) Wolfs, r.j.m.wolfs[at]tue.nl.
For information about the Smart Buildings & Cities PDEng program and the education program please visit www.tue.nl/pdeng-smart-buildings-cities.
Please visit https://jobs.tue.nl/en/vacancies.html to find out more about working at TU/e!
The PDEng trainee will be embedded in the research group 3D concrete printing (see www.tue.nl/3Dconcreteprinting). For questions about the project please contact dr. ir. Rob Wolfs (r.j.m.wolfs@tue.nl).
Interested?
The contact for this job posting is dr. ir. Rob Wolfs.