53rd board
Robin van Steen - Chairman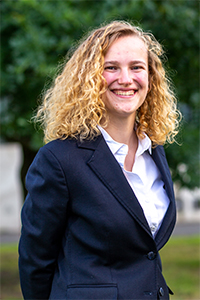 Dear KOers members,

My name is Robin van Steen, and I am 23 years old. I was raised in Houten, where I got my VWO diploma at College de Heemlanden. In my third year, an architect visited one of our creative courses for a small masterclass, which got my attention. When orienting for studies, I immediately knew that I had to look at the technical universities, although I was not immediately sure where I was going. Ultimately, I chose to study the built environment in Eindhoven and have not looked back. At first, I was interested in all directions of the built environment but quickly realized that SED was the way to go for me.

In my second year at the university, I joined the photography association. After a year there, I became part of the board and gained experience leading an association. However, our board year was cut short by the covid-19 pandemic, and the part I was looking forward to the most ended up not happening. I made up for that with some nice committees and felt like I had had it with being board. I was wrong.

After my bachelor's, I took a gap year at the height of the covid pandemic. I worked for a photography company by myself and learned a lot about myself. I realized that I like to work with others towards a goal. So, when I returned to studying this past year, I joined many committees. When Janneke asked me at the start of the year if I was going to be the next KOers board, I said no, probably not. Yet here we are.

I have really enjoyed this past year with KOers. All the activities, lunch breaks, coffee breaks, and drinks have really convinced me how great the people of this association are! I look forward to working with the rest of the board towards making the next year a great success and getting new members enthusiastic about the association.

As chairman, I will be the responsible person in the end. I will lead the meetings, protect the policies, and ensure everyone is doing okay. Besides leading the board, I will also be the face of the association to the rest of the association, the section associations and during activities. I aim to be accessible for members and other associations and help them in any way possible
Renske Rokx - Secretary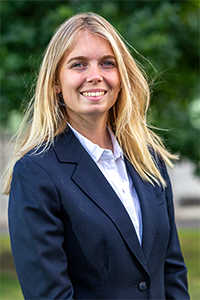 Dear KOers members,

My name is Renske Rokx, and I am 22 years old. I live in Eindhoven but was raised in a small village somewhere in western Brabant called Sprundel. Raised by two architectural consultants, I was always convinced that I did not want to work in the field of the Built Environment because the only thing you did was draw lines in a computer program. In secret, I always had some interest; I played computer games such as Rollercoaster Tycoon and the Sims. Those programs have the nice addition that they were life simulation games, but I did not do anything with that. I was just building rollercoasters, houses, and Themeparks but never played them. When the structure was finished, there was no fun anymore, right?

Until high school, I strongly believed I should be something different such as an investigative journalist or astronomer. But after visiting TU Eindhoven, those ideas quickly vanished during the open days. I discovered that I found it interesting to know why an object is constructed in a certain space, in a certain way, and for a certain reason. The choice between TU/e and Delft was easy for me; I already knew that I liked more than only architecture. I felt that Eindhoven could offer me a greater variety of courses that showed me all parts of the Built Environment. So here I am, sitting behind a computer drawing lines, but still not regretting the choice because it luckily is much more than only this little aspect.

In my final year of my bachelor, I was asked to join the BeerCrateBridge committee. During this period of preparing and constructing, I have obtained many experiences and got to know new people. I also got to know KOers as an active member, discovered that it is a great association with great people, and concluded that I wanted to contribute to the association by maintaining a healthy association that could offer much for SED students.
In my spare time, I like to empty my head by playing football, which I do in my hometown. I also have played Futsal at the student sports association Totelos. Once every two weeks, I rehearse with my band, where I play bass. Furthermore, when there is any time left, I enjoy spending time with my friends and making the best of my student life.

As secretary of the 53rd board, I will arrange all communication within the association. Together with Irene and Robin, I take care of all media (website, social media, and promotion) to attract and inform members clearly, always assuring that the KOers identity blue is used.
Irene Klok - Treasurer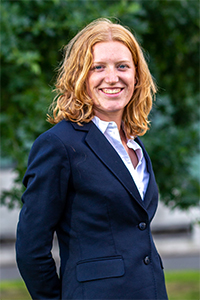 Dear KOers members,

My name Is Irene Klok, and I am 21 years old. I was born and raised in a small village called Tinte, located beneath the city of Rotterdam. I completed my HAVO in Brielle and Hellevoetsluis at the Penta college group locations Bahûrim and Jacob van Liesveldt.

After completing the HAVO, I did not know what I wanted to study immediately. I first applied for the study medical care but switched at the end to Building engineering. While studying at the Rotterdam University of Applied Sciences, I found the construction part the most interesting because of all the calculations. That is why I chose to continue my study by starting a pre-master. Where I first decided to study in Delft, I ended up in Eindhoven due to circumstances that I don't regret.

At the start of my pre-master, I became a member of KOers. After finishing my pre-master, I took half a year to see something of the world. I went to Tanzania for six weeks, and there I helped with building activities at a local school. Although I have no experience with committees, I was interested in joining the 53rd board, so I can meet many new people and develop my social skills and professional communication skills with companies.

Besides studying, I help at home with managing the sheep. From a young age, I do gymnastics, where I also teach younger children. I also like skating, playing with my dog, and solving different kinds of puzzles.

As treasurer, I will take care of the income, expenses, and declarations of KOers. A budget will be made to order all finances. This gives a clear overview and the opportunity to perform all the desired activities.
Hendrik Baarssen - Commissioner of Professional Relations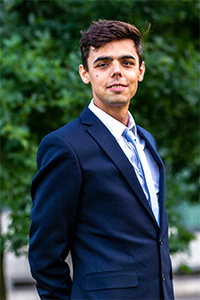 Dear KOers members,

My name is Hendrik Baarssen and I am 26 years old, and I am raised in Urk. I knew from a young age that I wanted to design buildings. Once I realized architecture didn't suit me, I focused on becoming a structural engineer.

However, since I wasn't a particularly motivated student, I failed the HAVO and finished with a VMBO-Tl diploma. I started my study with a study in the built environment on MBO-4 level. In these four years, I acquired a lot of practical experience in various fields, such as carpentry, drafting, and planning. After that, I continued my study in the built environment at a university of applied science and specialized in structural engineering. When I got my bachelor's degree, I decided I might as well continue getting a master's degree.

I started my pre-master in 2020, and since I didn't know anyone in Eindhoven, I joined KOers. During the KID, Joes convinced me to join the concrete canoe committee, which sadly was canceled due to the Covid-19 measurements. In 2021 I continued with the concrete canoe committee and became gradually more active by KOers, and I eventually joined the 53rd board.

As commissioner of public relations, I will be responsible for maintaining and obtaining sponsors. In addition, the excellent relationship between the public groups and the organization must be maintained. There will always be an effort to recruit one or more new partners. Furthermore, the goal is to maintain contact with the current partners.
Janneke Heuvelman - Commissioner of Education & Vice Chairman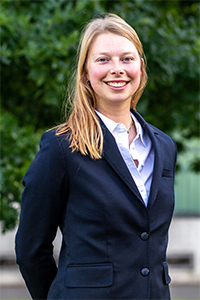 Dear KOers members,

My name is Janneke Heuvelman. I am 22 years old, and I grew up in Wageningen. Here I got my VWO diploma at Pantarijn. In the 3rd year of secondary school, all students had to choose an internship. A classmate and I chose an architecture company, and we liked it so much that we both ended up studying Built Environment at the TU/e.

I already wanted to become an architect at a young age, so I started studying the built environment in the first place. However, I have always had a passion for mathematics and technology. During my bachelor, I discovered that these two interests could be combined into one specialization: structural design. When I switched from architecture to structural design, I knew this was the way to go for me.

In the last year of my bachelor, it was obvious that I was going to choose the master 'Structural Design and Engineering. My friends, however, were going to choose different master tracks. During this year I joined KOers to already get to know some people of our master track, which worked like a charm. Shortly after, I joined the podcast committee.

I am a big fan of doing something next to my studies. I have been a member of the rowing association Thêta since my first year at the TU/e, which taught me many sports- and social-related skills. Besides that, I worked part-time as a teaching assistant throughout my studies and at a scaffolding advice company during my 3rd year of the bachelor. These were very informative side-jobs however, a board year at KOers seems informative and fun at the same time. I am really looking forward to creating an amazing year together with KOers!

As commissioner of education, my goal is to improve the quality of education. To reach this, I will evaluate courses together with fellow students and communicate this feedback to the responsible teacher of the course. Furthermore, workshops and excursions will be organized to broaden the KOers members' knowledge and bridge the gap from education to practice. Next to commissioner of education, I will be vice-chairman; this means that if Robin is unable to perform her duties, I will take over.