52nd board
Joes Sloots - Chairman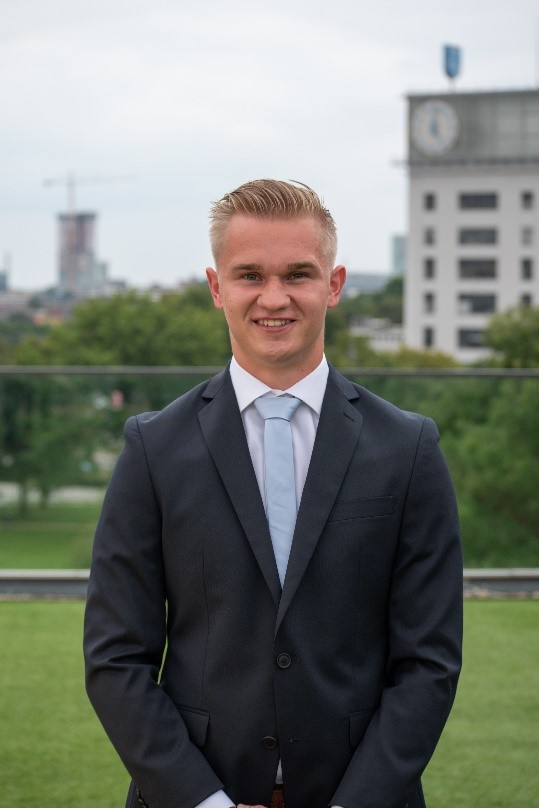 Dear KOers members,

My name is Joes Sloots, 23 years old and born in Haarlem but raised in a small village called Varsseveld, located in the region known as the Achterhoek. Here, I completed my HAVO during which my interest for the built environment was formed. Like most colleagues, I wanted to become a designer or architect. Therefore, I applied myself for the bachelor Built Environment at the University of applied sciences of Arnhem and Nijmegen. During the bachelor I realized that designing was not meant for me and that my passion was changed to technical engineering. Later during the bachelor my focus was put on specifically structural engineering and I finished my bachelor with a thesis in CLT structures. After finishing I wanted to obtain more technical knowledge before entering the work field, which resulted in the application for a master track in structural engineering.

After an orientation process I concluded that the master track Structural Engineering and Design at the TU/e was the most interesting for my study continuation. This was due to the right combination of engineering, designing, and innovating. I enrolled into the pre-master which I successfully finished in one semester. The following three semesters I finished all courses and will start my graduation project about 3DCP in September. After my graduation I will make my way to become a structural engineer.

During my bachelor I was very actively involved with the study association Trifonius. I was in several committees and even went into the board as secretary in my third year. Due to the enthusiastic nature of a study association, I naturally joined KOers as an active member right at the start of my pre-master. For already two years I am a member of the BKR committee. Unfortunately, in both years the BKR was cancelled due to the Corona pandemic. Also, in my second year I joined the BKB committee as chairman of the structural design sub-committee.

As chairman I will be responsible to lead my colleague board members by guarding the policies, progress, and internal cohesion. Not only will I lead internally within the board, but I will also take the floor to address the members during activities and represent the interests of the associating during CSPO meetings. My goal is to extend these outside formal matters and also be helpful during everyday matters within Vertigo.

Teun van Warmerdam - Secretary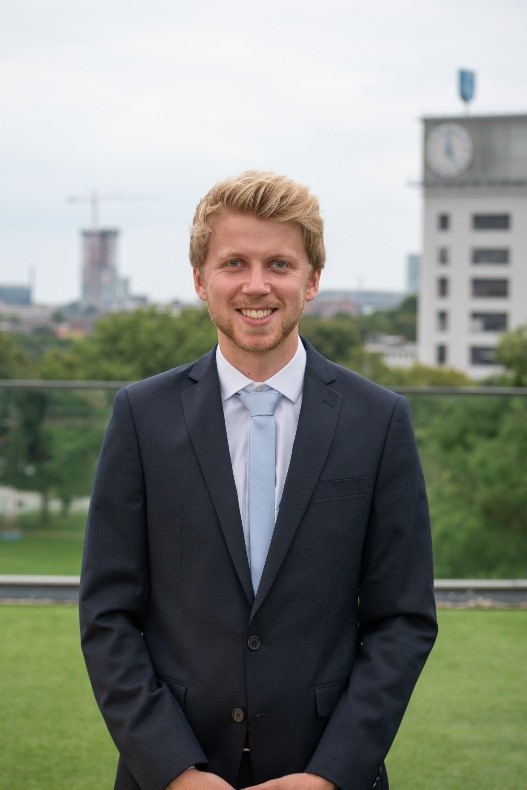 Dear KOersmembers,

My name is Teun van Warmerdam, and I am the secretary for the 52nd board of KOers. My origins lay in the high north of the Netherlands, since I was born in the city of Groningen. No different than most SED students, I spent my youth playing with (Technic) Lego and Kapla. These interests fed my interests in Structural Design at a young age. Together with friends, we endlessly argued about what would be the best way to build a certain structure, after which we constructed our own ideas ourselves and then compared and tested who designed the best bridge or building. Not too different from our current courses and work prospect, right?

Even though nothing tops the city of Groningen, I felt like I had to try and live in a different city at least once in my life. And what better time exists for such a step than one's student life? Since I wanted to study within the Built Environment on a university, I had to choose between Delft and Eindhoven, both a three-hour train ride from my hometown. I chose for Eindhoven since I preferred the open and accessible atmosphere of TU/e over Delft, together with the wider scope on all disciplines of the Built Environment, like SED. It's a choice I'm still very grateful for to this day, because of the nice people I met and the opportunities ahead of us.

After making the step from the bachelor to the master, it is the BeerCrateBridge Committee that made me become an active member of KOers. I think the BKB is a perfect example of what KOers can mean for SED students. Of course, the committee is great fun to be part of, with enthusiastic members in all stages of the SED master. But at the same time, it is a serious design challenge and therefore a great contribution to everyone's engineering and professional skills. Such a combination of serious contributions to everyone's educational career on one hand, and fun leisure and encouraging interaction between KOersmembers, staff and sector is in my eyes the strength of KOers. To be part of the board that will guide all this in the right direction will be a great experience and I cannot wait to get started.

In my spare time, I like to empty my head with sports. After playing football my whole life and trying rowing and volleyball during the bachelor, I now practice running and cycling. Besides sports I like to hang out with my friends and roommates, enjoying student life while it lasts.
As secretary of KOers, I will take care of proper minutes during all meetings, a well-documented membership file, incoming and outgoing mail and email, the KOers website and of course the correct use of the KOers identity blue at all times. Together with Linda I will take care of the media related tasks of KOers as well.

Linda Versteegh – Treasurer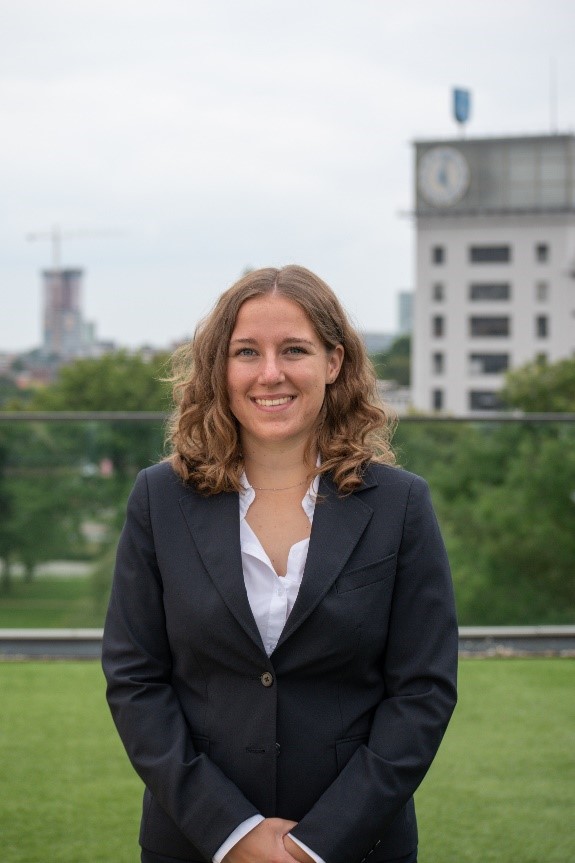 Dear KOers members,

My name is Linda Versteegh and I am 23 years old. I was born in Eindhoven, but raised in Best, a village close to Eindhoven. In Best I completed the HAVO at the Heerbeeck College. In my last year of the HAVO, I had a small internship of a week at an architectural firm. The internship made me enthusiastic about the different aspects and possibilities of the built environment.

After completing the HAVO, I went to Avans University of Applied Sciences to study the Built Environment. In the beginning, almost every aspect of the built environment bothered me, except architecture. With that I was an exception compared to most student in the built environment. In my third year, I did an internship at a structural engineering company, where I came to the conclusion, I wanted to become a structural engineer too. With that conclusion I started the premaster at the TU/e, after graduation at the Avans.

Right after the start of my premaster, I became involved with KOers. That year I joined the KIST committee. Unfortunately, due to the Covid-19 pandemic, our planned study trip could not take place. After that year I decided to broaden my perspective at KOers by joining the activity committee and the BeerCrateBridge committee. Due to my enthusiasm at almost every KOers activity and being an active member of KOers, I became interested in joining the 52nd board.

Besides being a member of KOers, I am also a member of MHC Best. At that club, I have played hockey since I was six years old. Every Sunday I will play a match against other clubs in the region together with my teammates of DJ1. Besides playing hockey, I love to hang out with my friends and enjoy the student-life, where I am always up for a beer.

As treasurer, I will take care of the income, expenses and all the declarations of KOers. A budget will be made to order all finances. This gives a clear overview and the opportunity to be able to perform all the desired activities.

Thomas Pannekeet - Commissioner of Public Relations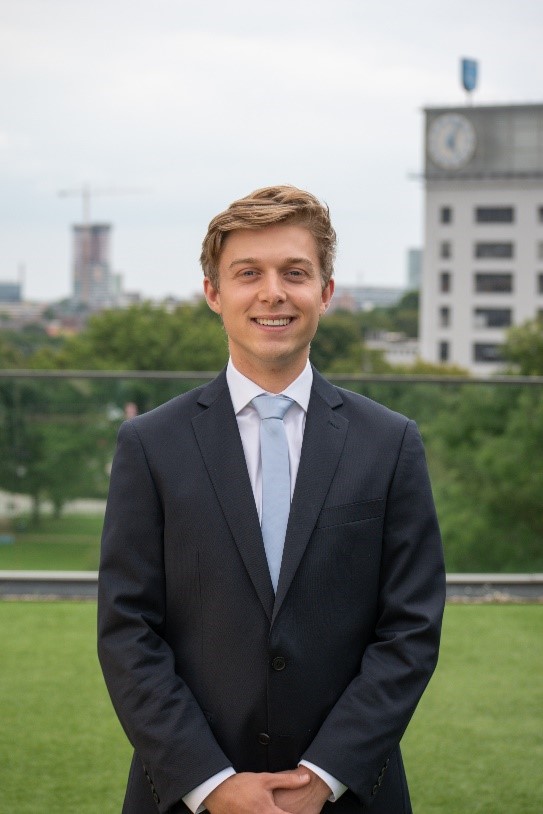 Dear KOers members,

My name is Thomas Pannekeet, I am 22 years old and I am born and raised in Geldrop, a village very close to Eindhoven. At the Augustinianum in Eindhoven, I completed my VWO diploma.

During an orientation day with an architect, I was sure I wanted to do something in the built environment. Since the TU/e offered a broad aspect of disciplines, I decided to stay here, and study at the TU. In the beginning of my studies I was more focussed on architecture. However, once I knew that discipline wasn't for me, I started to focus more on structural design. This was more the way to go. So, after my bachelor, I started my master Structural Engineering and Design in Eindhoven as well.

At the start of my master studies, I wasn't in contact with KOers that much. Like most students, every course and activity I followed was online, and therefore getting acquainted with KOers was more difficult. However, at the start of the second semester, I got pulled into the BeerCrateBridge committee, and so I started to get to know KOers better and better.

Apart from being a member of KOers, I am also a member of student team TeamVIRTUe for over a year. Where my interest of the position of public relations at KOers was largely created.

This year, I will join the board of KOers. I chose to do so, to help and develop KOers as a study association, and to organize fun and interesting activities. By doing so, I hope to give members an amazing KOers year.

As commissioner public relations, I will be responsible for maintaining and obtaining sponsors. In addition, the excellent relationship between the public groups and the organization must be maintained. There will always be an effort to recruit one or more new partners. Furthermore, the goal is to maintain contact with the current partners.

Saar Driessen - Commissioner of Education & Vice-Chairman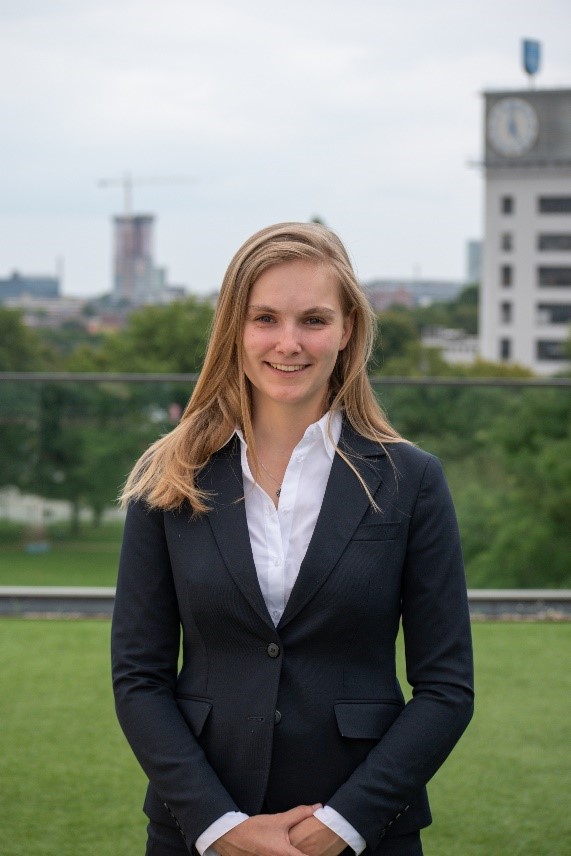 Dear KOers members,

My name is Saar Driessen. I am 22 years old and was born and raised in Amersfoort. Here I found my passion for design and structures. Besides the usual hours spent on Lego or Knex I spent a fair amount of time designing new ideas for our future home. When an architect designed a renovation for our house and came by to discuss the ideas, I knew I wanted to become an architect as well. After some time passed I concluded that it could be possible that architecture was not technical enough for me. As I was still highly interested in buildings and the living area, I found my study in at the TU/e in Eindhoven.

During my bachelor's, I indeed liked structural design more. That is why I started the master track SED last year. Last year, I was not that involved in KOers due to the Corona pandemic. I did however join the BeerCrateBridge (BKB) committee since I was highly curious about the structural principle of a bridge built with beer crates and I wanted to meet new people. In the last weeks of the academic year, physical activities were possible again. This is when I got to know KOers and its great members. The atmosphere at KOers is so intimate but open and the energy level is always high and positive. Therefore, although I barely knew the association, I knew I would like to do a board year.

When I am not studying or working, I love to be in a climbing gym. Or even better, to be outside, climbing real mountains. Climbing is something I do since I can walk and is not something I plan to stop doing. Besides climbing for myself, I give climbing training and lessons to absolute beginners as I like to see others evolve in the sports. But in the end, what I love most is to be outside, in the mountains, performing outdoor sports like climbing, hiking or skiing.
I am really looking forward to meeting you all and creating amazing memories with KOers!

As commissioner of education my goal is to improve the quality of education. To reach this, I will evaluate courses with the responsible teachers and with fellow student to improve the quality of the separate courses where possible. I will try to not only evaluate courses at the end but start already before a course has even started. Besides the courses, workshops and excursions will be organized to broaden your knowledge and to create a lot of fun. Besides commissioner of education, I will take upon me the function of vice-chairman, if Joes won't be able to perform his chairman's duties I will take over.