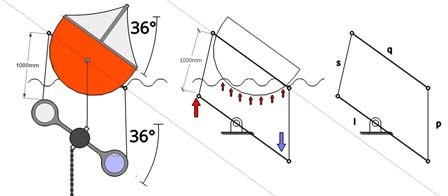 Graduation Project Floating double axis sun plotter
Engineering, construct and material research for a floating double axis sun plotter
This project concerns a research in the engineering, manufacturing and construction of a floating sun plotter for commercial applications.
This research focuses on the design and construction of a floating dual axis solar tracking device. The dynamic floating object is based on a concentrated photovoltaic technology (CPV) with a synclastic mirror facing the incoming sunlight to a photovoltaic element. The dynamic CPV is connected to a kinetic submerged object by four cables. The submerged object suspends below the floating CPV. It is equipped with a water displacement mechanism which creates gravity point displacement, causing the floating object to tilt. In this way the floating CPV is able to follow the path of the sun like a dual axis solar tracker. The measuring of the most optimal angle of the incoming light is regulated by four LDR's. They are connected to an Arduino-programmed control system driving the water pumps and bringing the floating CVP in the most optimal tilt towards the incoming light.
To make this project economically feasible the project needs to be enlarged. The small prototype is still available at the TU/e. the question for this research is to engineer a larger economically feasible structure.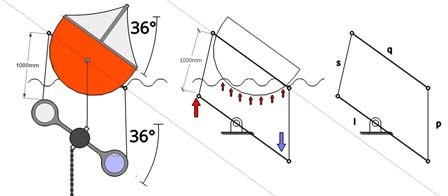 If you want more information please contact Arno Pronk
Interested?
The contact for this job posting is Arno Pronk.